Summer Piano Ensemble Camp (2017)
Summer Piano Ensemble Camp
JUNE 19-23, 2017
9:00 AM – 1:30 PM
at the FABER PIANO INSTITUTE
Why have a camp?
The primary objective of the camp is to provide an opportunity for middle and high school piano students to learn, develop and practice skills necessary to play in small groups, from piano duets to small ensembles with instrumentalists.
The social aspect of this program and the unique skills for ensemble playing that students will learn provide a way of engaging students at a time when they may otherwise lose interest in solo playing. We hope to help them discover how rewarding it can be to play music with friends, siblings or parents. To further these newly acquired skills, we will offer these students to participate in master classes and performances throughout the next academic year.
Who is attending?
Students, ages 10 and older.
The ideal piano student is at minimum able to play a sonatina or repertoire of similar level of difficulty with fluency, perhaps plays another instrument, and is responsive to others in social settings. Instrumentalists must discuss this opportunity with their private teacher before registering.  It is not necessary that the student has played in an ensemble before, but it's important that s/he is diligent and open to trying new pieces and new ways of playing.
What will we play?
The repertoire is carefully tailored to each student. We cannot predict at this stage what our roster will be. Last year, the last day camp celebration featured: piano 6-hands, two pianos 8-hands, string trios and quintets with piano, violin duets with piano, pieces for cello, violin or clarinet and piano.
Composers included: Haydn, L. Mozart, St Saëns, Bizet, Vaughan Williams, Kabalevsky, Shostakovich, Rachmaninov, Vandall, Norton and many more.
Students will be assigned repertoire between 6 to 8 weeks before the first day of camp and are expected to learn their part ahead of time.
What will we do during camp and what is new? 
Large group activities: 
The first hour is focused on deepening listening and building team work through mindfulness technique, theater games and movements.
Masterclasses/demonstration led by professionals in the area.
Camp celebration on Friday where campers will play for faculty and family pieces they have been working on.
Small group activities:
Group coaching, Sight reading, Improvisation, Supervised practice.
How is the camp possible?
The camp would not be possible without the support of each member of the camp faculty, who not only will coach ensembles during the week but also have dedicated many volunteer hours to various aspects of the planning.
The AAAPTG is extremely thankful to the Faber Piano Institute for donating the use of their wonderful space. We very much appreciate the support we get from all the FPI staff as well. 
Béatrice Ellis (Camp Director), received a musical and piano performance training both from the Conservatoire Régional de Lyon in France and the Conservatoire Supérieur de Genève in Switzerland. Following graduation, she enjoyed a free-lance career as a teacher, chamber musician, and vocal accompanist mainly through the Lyon Opéra. In 1987, she was offered an assistantship by the Hartt School of Music (Hartford, CT) and later on received a grant from the French Ministry of Culture to pursue a Masters degree in Piano Performance at this institution.
After receiving her degree, she moved to New York City where she worked for two companies specializing in classical music production, before being hired by the French Embassy Cultural Services where she served in various capacities from 1991 to 2000. In 1997, she accepted the post of Cultural Attachée in charge of the arts. Since 2000, she has settled in Ann Arbor after her husband John accepted a post at the University of Michigan School of Music, Theater and Dance. In order to deepen her pedagogical approach, she has taken many courses in psychology and social sciences at Washtenaw Community College. She has been teaching piano privately from her home since 2003 and is currently on the board the Ann Arbor Area Piano Teachers Guild as Past President, of the AAAPTG Foundation as Secretary and of the Michigan Music Teachers Association as Education Chair.
PIANO CAMP FACULTY 
Sarah Albright: A graduate of Salem College in Winston-Salem, NC, with a degree in organ performance, Sarah studied organ with John Mueller and piano with George Henry Horne. She holds a Master's degree in organ from the University of Michigan where she studied with Marilyn Mason, and completed her organ study in Paris, France, with Marie Claire Alain. Recent piano study has been with Katherine Teves.
Sarah's career has included private piano teaching as well as performances and positions in church music. She was Music Director for six years at the South Lyon Presbyterian Church and recently retired from 22 years at the First Unitarian Universalist Congregation Church of Ann Arbor where she played organ, piano, and directed three choirs. She continues to substitute in area churches and teaches twenty piano students.
As member of the Ann Arbor Area Piano Teachers Guild for 40 years, Sarah has served in nearly all of its leadership positions. As its president, the AAAPTG became affiliated with MMTA, and she has been an integral participant in many of the Guilds events, camps, auditions and projects. Outside the Guild, Sarah has been active in the American Guild of Organists and served as Dean of the Ann Arbor chapter in 1985-86. In 1985, she organized a sixteen hour long organ Marathon honoring Bach's three-hundredth birthday. She has played organ and piano duet recitals in Michigan, Virginia, and North Carolina. In 2011, she was invited to judge pianists in the Hong Kong Schools Music Festival, which entailed judging students from elementary to advanced level all days, six days a week for a month.
Veena Kulkarni: Lead Instructor at the Faber Piano Institute in Ann Arbor, Veena delights in teaching piano students of all ages from the earliest years of study through advanced concert repertoire. Having led worship at the Ann Arbor Christian Reformed Church for over 12 years, Veena is at home both in the worship band and on the concert stage. Active as a solo and chamber musician, Veena performs regularly in the Midwest. In the 2011 Liszt-Garrison International Piano Competition, Veena won Best Liszt Interpretation, and gave the East Coast Premieres both of Frank Felice's Echolocator Jennifer Blaire Furr's Of Iron and Silicon.
Veena was also the pianist for Eero Trio, whose CD Wolf Glen was released in 2010 and features the premiere recording of Christopher Dietz's Fumeux fume, for clarinet, cello & piano. She has also taught at Madonna University and the University of Windsor.
Veena completed her doctorate in Piano Performance and Pedagogy under Logan Skelton and John Ellis at the University of Michigan. Prior to that, she studied at Indiana University with Emile Naoumoff and Professors Brancart, Auer, Gulli and Tocco and at the Royal Academy of Music with Hamish Milne. Currently, she studies with Joel Schoenhals.
Renée Robbins maintains an active piano studio in Ann Arbor, where she teaches piano students of all ages, trains other Suzuki teachers and performs chamber music with a variety of other musicians in many settings. As past president of the Ann Arbor Area Piano Teachers Guild she organized a series of two piano events. She also organized a highly successful city-wide playathon to raise money for a music school in Haiti.
Her teaching and teacher training have carried her to Suzuki workshops in every corner of this country, to Israel and to Bermuda. She holds a B.A. from the Eastman School of Music in piano performance, an M.S.W. in social treatment from the University of Michigan and an M.A. from Eastern Michigan University in piano accompaniment. Her primary teachers have been José Échaniz and Joseph Gurt.
Paola Savvidou serves as Wellness Coordinator and Global Education Advisor for the University of Michigan School of Music, Theatre & Dance and runs her own piano studio called Music Lotus. She previously served as Assistant Professor of Piano Pedagogy at the University of Missouri where she taught applied piano, undergraduate and graduate courses in piano pedagogy and wellness, and coordinated the Group Piano Program.
Between 2011-2016 she coordinated the Experiencing Piano Program (a community program offering group class and private lessons for beginning adults and children aged 6-9) and between 2014-2016 she directed the Experiencing Music Program, which brought music classes, drum lessons, choir, and educational concerts by MU students to the Boys & Girls Club of Columbia, MO. She also initiated and directed the Music of the World Piano Camp for young children on the MU campus. Currently, in her piano studio she offers private lessons as well as classes that combine yoga and group piano instruction. A devoted advocate of contemporary music, Paola is a member of the New Muse Piano Duo with Jonathan Kuuskoski; an ensemble dedicated to commissioning and performing works by living composers.
As a proponent of healthy-living for musicians, she utilizes Laban Movement Analysis, Yoga, and creative movement within her teaching to improve alignment while deepening expressivity in performance. She frequently presents related research work at prominent conferences including the MTNA National Conference, the International Society for Music Education Conference, the European Association for Schools of Music Conference, College Music Society's International Conference, and the European Piano Teachers Association. She has won Article of the Year through MTNA two years in a row in 2015 and 2016. In Spring 2015 she received the prestigious Purple Chalk Teaching Award by the College of Arts & Science Student Council at the University of Missouri. She is a Rainbow Kids Yoga Certified Teacher, holds a BM from the University of North Carolina at Greensboro, and graduate degrees (MM and DMA) in Piano Performance and Pedagogy from the University of Wisconsin-Madison.
Gaye Thomas (piano): Gaye Thomas is a recent transplant from Portland, Oregon. She received her Master's Degree in Piano Performance/Pedagogy from Northwestern University, and a Bachelor of Music from State University of New York at Albany. While at Northwestern she studied with Elvina Pearce, a long time student of the influential pedagogue, Frances Clark, and became well acquainted with her teachings.
After graduating from Northwestern, Gaye moved to the Boston area where she taught piano at Brookline Music School and also became musical director for a long established children's theatre company, Act/Tunes, in Concord, Massachusetts.
She moved to Portland, Oregon in 1989, and became active in the Oregon Music Teachers Association where she held several positions, the most recent of which was Chairman of Technology. In 2013 she chaired a panel presentation at the OMTA State Conference titled, Using Technology in the Studio. While in Portland, she also studied Taubman Technique and attended many summer Taubman workshops with Edna Golandski. She continued study with Lisa Marsh, founder of the Coordinate Movement Program at Portland State University. She also attended workshops in improvisation with Forrest Kinney.
GUEST STRING TEACHERS
Carolyn Lukancic (violin and viola): Carolyn Lukancic is a
freelance violinist and violist in Ann Arbor, MI, where she maintains a private violin and viola studio. She performs with the Jackson Symphony Orchestra, the Lansing Symphony Orchestra, and the Ann Arbor Symphony Orchestra. She recently moved to Michigan from Burlington, Vermont, where she had performed with the Vermont Symphony Orchestra, the Vermont Contemporary Music Ensemble, the Vermont Chamber Group, the Hanover Chamber Orchestra, the Burlington Choral Society, and was a founding member of The Burlington Chamber Orchestra. Lukancic earned her Bachelors Degree in Music from The Blair School of Music at Vanderbilt University and holds a Masters in Violin Performance from the University of Michigan.
Barbara Sturgis-Everett (Violin): Dr. Sturgis-Everett holds Bachelors and Master of Music degrees from Peabody Conservatory of Johns Hopkins University and the Doctor of Musical Arts from The College-Conservatory of Music of the University of Cincinnati where she was also a member of the faculty of the Preparatory and Continuing Education Division. Among her teachers were Benhals, erl Senofsky, Henry Meyer, Christine Dethier, Elaine Richey, and Derry Dean Drinkall. In addition to performing, Dr. Sturgis-Everett maintains an active teaching studio.
Barbara Sturgis-Everett has been a member of the Ann Arbor Symphony Orchestra since 1989 and has served as Principal Second Violin since 1991. Prior to her association with the Symphony, Dr. Sturgis-Everett was an Associate Professor of Music at Eastern Illinois University where she was a member of the string faculty and of The Eastern Trio. She served on the faculty of the Interlochen Arts Camp for 15 summers as well as teaching and performing summers at The Downeast Chamber Music Festival in Maine. In addition to the A2SO, Ms. Sturgis-Everett performs with R4, a 13-piece ensemble specializing in early jazz of the Ragtime era. Other professional activities have included performing in The Peninsula Music Festival Orchestra in Door County, WI, and teaching at The Chapin School for Girls and the Manhattan Conservatory Preparatory in New York.
Andrew Bader (cello): Andrew is a cellist based in Ann Arbor. He completed his Master's program at the University of Michigan in 2016, and holds a Bachelor's degree from Indiana University. Andrew freelances in Southeast Michigan, and has performed in the University of Michigan's University Symphony Orchestra, the Contemporary Directions Ensemble, AEPEX Contemporary Performance, and the Jackson Symphony Orchestra. He also maintains a private studio in Ann Arbor, as well as teaching at Expressions Music academy around Metro Detroit.
GUEST CLINICIANS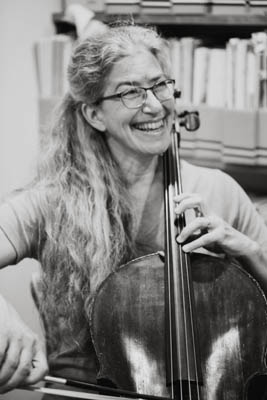 Sara Cumming (Cello): Sara received her Bachelor of Music degree in Cello performance from the University of Illinois, and her Master of Music degree from Rice University. Another three years of study was completed at the University of Houston.  A
t these institutions, she was honored to study with Laurien Laufman, Shirley Trepel and Anthony Elliott.
In addition to attending Banff and other music festivals, she has experience with orchestral performing and chamber music.  She has freelanced with the Houston Symphony, the Melbourne Symphony and the movie recording industry in Melbourne.A founding member of the Chelsea Chamber Players, Sara participates in this concert series.  She has taught private cello lessons in Scotland and Australia, and currently has a cello studio in Chelsea, Michigan.
Professor Daniel Foster, has taught violin at Eastern Michigan University since 1987, and taught viola from 1987 to 2001. A student of Paul Rolland at the University of Illinois and of Angel Reyes at the University of Michigan, he holds degrees in violin performance from both schools. Since 1978, he has appeared frequently throughout the United States as a solo and chamber artist, with repertoire ranging from the seventeenth through the twentieth century. As a baroque violinist, he has performed and recorded with Ars Music Baroque Orchestra, Smithsonian Chamber Players, Oriana, and Tafelmusik. He was a founding member of two early music groups—Xantippe, a trio for baroque flute/recorder, cello and violin, specializing in music of the late baroque and early classical periods, and La Gente d'Orfeo, a quartet for violin, cornetto, cello and early keyboards, specializing in Italian music of the early 17th-century. He was also a founding member of the Red Hot Lava Chamber Music Festival in Honolulu, and of EMU's Alexander Trio.
Professor Foster studied viola with Professor Guillermo Perich at the University of the Illinois. As a violist, he has performed and recorded Bach's Brandenburg Concerto No. 6 with Ars Musica, and chamber music with the Arianna String Quartet (Centaur Records) and the Atlantis Trio (Musica Omnia).
Professor Foster's teaching includes emphasis on musical values and expression, cultivation of free physical movements, and enhancement of the mind/body connection.
GUEST ARTISTS
The New Muse Piano Duo (Paola Savvidou and Jonathan Kuuskoski) actively commissions and promotes new works for four-hands and two pianos, with a particular interest in exploring the piano in its fullest capacity as a string, percussion, and keyboard instrument.
They have commissioned duo works by Gabriel Prokofev, Amy Williams, Jeffrey Hoover, Haley Myers, Michael Heap, and Stacey Barelos and solo works by Robert Honstein and James Romig. Tours have taken them across the United States to universities in Illinois, Maryland, Michigan, Missouri, North Carolina, Wisconsin, and abroad to the Ionian University in Corfu (Greece). International engagements include guest artist recitals at the European Association for Music in Schools Conference and the Biennial Euro-Mediterranean Musicological Conference at the University of Nicosia, Cyprus, and a lecture-recital at the European Piano Teachers Association Conference in Oslo. Other US festival appearances include the Omaha Under the Radar and the Women Composers Festival of Hartford, CT. Based at the University of Missouri from 2012- 2015, they were featured artists at the Missouri Music Teachers Association State Conference and the Mizzou International Composers Festival, and have enjoyed multiple performances at local series such as the Odyssey Chamber Music Series, the Friends of Music St. Louis and the University of Missouri St. Louis Monday Noon Series. Their first CD was released on the Blue Griffin label in 2017. The Duo is currently based in Ann Arbor, MI.
GUEST TEACHERS OF MORNING GROUP SESSION
Amber Kao is the Director of the Faber Piano Institute, and enjoys teaching all ages from the young beginner to advanced piano students. She began her artistic studies as a pianist, and graduated with highest honors from the University of Michigan, under the tutelage of Dr. Logan Skelton. Throughout her undergraduate training, she also studied violin with Aaron Berofsky and performed with the University of Michigan Philharmonic. Ms. Kao received her Master of Fine Arts degree in Dance Performance and has presented her choreography and collaborated with artists both locally and internationally in Italy, Portugal, Taiwan, Singapore, and New York. She was most recently awarded a Fulbright grant to conduct research in dance and music in Taipei, Taiwan at Taipei National University of the Arts and with Cloud Gate Dance Theater. Ms. Kao enjoys interdisciplinary collaboration across all art genres, and at present, uses her background as a musician and dancer to explore points of intersection between these disciplines.
Michelle Weiss is a theatre educator who is passionate about ensemble work. She specializes in Theatre of the Oppressed and Devised Theatre which she was introduced to during her pursuit of her MA in Theatre Education at Emerson College in Boston. She has taught camps at several local theatres, manages Pointless Brewery & Theatre, and works as an Assistant Site Coordinator for EMU Bright Futures at Estabrook Learning Community. When she's not in the classroom, you can find her on the improv stage!
 The summer piano ensemble camp is a program run by the Ann Arbor Area Piano Teachers Guild with support from the Piano Faber Institute, the AAAPTG Foundation and the Michigan Music Teachers Association. For more information, please contact Béatrice Ellis at: aapianoteachers@gmail.com